For four decades, inspired by Catholic social teachings and serving as the nonprofit housing development arm of the Archdiocese of Washington, Victory Housing has provided assisted living for seniors and affordable housing to low- and moderate-income independent seniors and families. Today, Victory Housing continues to strengthen and expand on this mission.
Victory Housing CARES: We lead with Compassion. We are Accountable for our work. We Respect everyone. We Excel in our results. We Sustain our mission.

A Strong Community
Our goal is to keep people close to their families and connected to communities. We're proud that we're seeing firsthand how affordable housing solutions can sustain communities, restore neighborhoods and rebuild lives.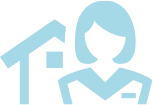 Caring Assisted Living
Focused on service – that's the philosophy of Victory Housing. Seniors who need a hand with day-to-day tasks will find an inviting, homelike setting where where an experienced and caring staff balances personalized service with an active sense of community.
Affordable
Victory Housing offers studio, one, two and three-bedroom apartments for rent. Our modern apartment homes feature bright, open floor plans with high-class finishes, including washer and dryer hookups, gourmet kitchens and spacious closets.

Close To Everything
We believe that "affordable" doesn't have to mean "away from everything." Our communities are located in amenity-rich urban or otherwise accessible locations that are close to jobs, transportation, and other opportunities.
Our Beginnings
Victory Housing was originally organized by three District of Columbia Roman Catholic parishes and became an Archdiocesan corporation a decade later in 1989.
Initially, the organization focused on providing affordable assisted living, opening Mary's House in Rockville in 1985. In 1996, we opened Manor Apartments, our first Independent Living Community for low-income seniors.
Though our focus continues to be senior housing, we have also developed four apartment communities for low- and moderate-income families.
To date, Victory Housing now owns and oversees 37 communities providing 2,812 units of rental housing. Six of these communities are Assisted Living residences which Victory Housing directly manages. Virtually all of our communities have received local, regional or national accolades for innovation, design and service, and we are committed to continuing to deliver these results.